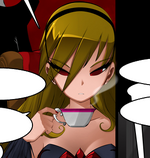 "Queen Bitch"
This user is a bureaucrat of the Snafu Comics Wiki. Their purpose is to lead the community and staff of the wiki, and to make sure it stays in perfect shape, through all means necessary.
Any questions and requests for assistance should be directed at this user's Message Wall.
DarKingdomHearts

User
Biographical Information
Home:
The Netherlands
Affiliation:
Evil
Occupation:
Ruler of the Underworld
Birthdate:
24 May, 1997
Physical Description
Gender:
Male
Hair color:
Brown
Eye color:
Blue/Silver
Relationships
Allies:
Enemies:
Comic Information
Favorite comics:
Favorite characters:
Favorite ships:

Blossdex
DevilSkull
Bellaga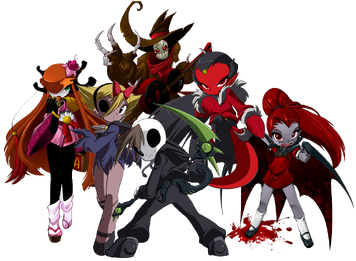 Hey everyone I'm DarKingdomHearts founder of the Bleedman Comics Wikia. This website tells you everything about the comics. My grammer might not be so good so you could help by fixing some of my grammer problems. Thanks in advance!
My favorite underworld kids
Favorite things
Favorite TV-Shows: Family Guy, American Dad!, Adventure Time (and other CN/Nick shows)
Favorite Movies: Paranormal Activity, Incidious, Cabin in the Woods, Final Destination, Alice in Wonderland, The Nightmare Before Christmas, Despicable Me, Scary Movie
Favorite Video Games: Kingdom Hearts, Final Fantasy, Assassin's Creed, Mortal Kombat, Uncharted, PlayStation All-Stars, Super Smash Bros, Mario, Pokémon, Devil May Cry
Favorite Artists: Within Temptation, Evanenscence, Miwa, Utada Hikaru, Girls Generation, Emily Browning, Shinedown, various anime openings
Watched Anime
Death Note
Bleach
Trigun
Fruits Basket
Angel Beats
Dragon Ball Z
Naruto
Higurashi no Naku Koro Ni
Umineko no Naku Koro Ni
Mirai Nikki
Black☆Rock Shooter
Bobobo-bo-Bo-bobo
Pokémon
Yu-Gi-Oh!
Highschool of the Dead
Deadman Wonderland
School Days
Another
Elfen Lied
Favorite Pokémon for each Type
| Normal | Fighting | Flying | Poison | Ground | Rock | Bug | Ghost | Steel |
| --- | --- | --- | --- | --- | --- | --- | --- | --- |
| | | | | | | | | |
| Fire | Water | Grass | Electric | Psychic | Ice | Dragon | Dark | Fairy |
| | | | | | | | | |
Inferno
Inferno is a character who appears in the fanfiction of Grim Tales made by me. He is the son of Ember McLain and Skulker. He inherited the last name of his mother, because his father doesn't remembers his. He is also the sidekick of Dan Phantom.
Personality
Inferno is a playful boy. He was often seen playing pranks on other ghosts. Almost every ghost, except for some like his parents and Walker, have been tricked at least once by him. Inferno can be quite rude and is very careless. This behavior is caused because he doesn't spent much time with his parents. This also eventually leads to him running away from home.
He became more friendly later on, wanting to have friends. However he still has his rudeness and is careless which is displayed most when he is around Dan. He does show respect against the rulers like Walker and Mandy because he doesn't want to offend them. Though he still has a playful spirit even when around them.
Powers and Abilities
Inferno has a vararity of powers and abilities, however there are skill he hasn't mastered yet. Inferno is known to, like his mother, have pyrokinesis. He was seen creating fireballs in the palms in his hands and throw them, and a fire dash. Inferno also has other ghost powers like; Intangilibity, Flight, Invisibility and Teleportation although he isn't very good at them.
However he is skilled with the weapons he has build into his armor. He has a blaster in his glove which can fire ghost energy shots, a net that can trap any species so they can't escape, a slingshot with bomb pellets, a dagger for close combat, goggles for infra-red vision and a chain which is one of his main weapons. He slashes with it, traps people with it etc.