The Grim Adventures of Billy & Mandy
Comments

0
935pages on
this wiki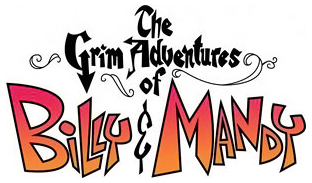 The Grim Adventures of Billy & Mandy often shortened as Billy and Mandy or The Grim Adventures is an American animated television series that aired on Cartoon Network. It is also the spin-off of Grim & Evil. Having originally aired as part of Grim & Evil The show began in 2001, And went on to become one of Cartoon Network's longest running shows. The show began airing under the Grim Adventures of Billy and Mandy title on June 13, 2003, ending on November 9, 2007 (though it was later included in a special titled The Grim Adventures of the KND which aired on November 11, 2007, officially ending the series). Though this would later be changed to October 12, 2008, due to the special Underfist not being made into a spin-off (due to the expiration of Maxwell Atom's contract with Cartoon Network). Otherwise, the series originally ended on November 11, 2007.
Featuring the voices of Greg Eagles, Grey DeLisle, and Richard Steven Horvitz, the series stars the two main characters, Billy and Mandy, having manipulated the Grim Reaper, usually called "Grim", into being their best friend for eternity after having won a bet over a sick hamster through a game of limbo.
Powerpuff Girls Doujinshi
Grim Adventures made some appearances in Powerpuff Girls Doujinshi, but know very large roles. Mandy has the biggest role from the show as she is the best girlfriend of Bubbles along with Gaz and Olga. Billy also is a student on Megaville Elementary and is good friends with Ed. Grim has made his appearance when Blossom died and he wanted to get her but Dee Dee convinced him to let her live. Reginald Skarr also appeared as the school principal.
Grim Tales
As the title already says the Grim Adventures plays the main role in Grim Tales From Down Below. Almost every character from the show represented. Mandy discovered she was immortal and eventually married Grim. Billy on the other hand died but was kicked out both heaven and hell and now wonders around as a spirit on Earth.
Mandy has been in a relationship with Nergal Jr. and made a child named Minimandy. Mandy has also a son Grim Jr. from a yet unknown father. She also has a twin Daniela and Manny Phantom with Dark Danny.
Nergal appears in the comics as the head Nergal who tells about the Nergal powers to Grim Jr. but eventually dies. Lord Pain appears as the servant of Mandy just like in the show. Cerberus appears as the guardian dog of Castle Evergrim and Billybot and Mandroid as security system.
Hoss Delgado and Irwin appear along with Raven as a few of the last survivors of the battle in Megaville but eventually all get killed by HIM. Jeff the Spider appears as the babysitter of Mimi. Boogeyman along with Creeper appear as the main villains of Afterbirth but get killed by Junior and Minnie.
Other characters only make cameo appearances like: Boskov, Hector Con Carne, Eris, Nigal Planter, Mindy, Piff, Sperg, Pud'n, Fred Fredburger, Gladys, Harold, Santa Claus, Sir Raven, Mr. Snuggles, Tricycle, Mr. Bonkers and Happy Huggy Bear.
Also several object like the Horror's Hand or locations like Limbo appear in the comic.
Promotional Art
There is many art of the show. Jack 'O Lantern and Demongo are featured together in art as the Soul Collectors.