The Fairly OddParents
Comments

0
935pages on
this wiki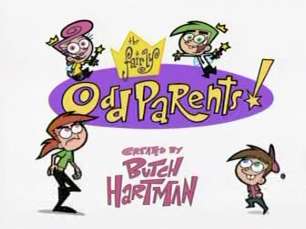 The Fairly OddParents (sometimes abbreviated FOP) is an American-Canadian animated television series created by Butch Hartman about the adventures of Timmy Turner, who is granted fairy godparents named Cosmo and Wanda. The series started out as cartoon segments that ran from September 4, 1998 to March 23, 2001 on Oh Yeah! Cartoons and was later picked up as an actual series. It is produced by Frederator Studios and Billionfold Studios (Season 6- present) for the cable network Nickelodeon. It is also the third longest-running Nicktoon, behind Rugrats and SpongeBob SquarePants, as well as Nickelodeon's second highest rated show, behind SpongeBob SquarePants.
Powerpuff Girls Doujinshi
Timmy Turner only makes a cameo appearance in Powerpuff Girls Doujinshi by only being mentioned by Tootie who plays an importnant background role being one of Buttercup's fans along with Suzy. Cosmo & Wanda also made an appearance in the dream Dexter had about Blossom.
Grim Tales
The Pumpkinator plays an importnant role in Grim Tales From Down Below. He was summoned by Oogie Boogie to kill Minimandy and succeeded. Grim Jr. then got the Nergal powers from Minnie and merged into the Pumpkinator creating the Demon Reaper.
Anti-Cosmo and Anti-Wanda make a cameo appearance when Grim Jr. says that they are his Fairy Godparents.
Artwork
Timmy also appears along with Anti-Cosmo in art of Bleedman.