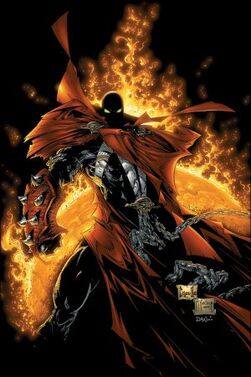 Spawn (Albert Francis "Al" Simmons/Jim Downing) is a fictional comic book superhero who appears in a monthly comic book of the same name published by Image Comics. Created by writer/artist Todd McFarlane, Spawn first appeared in Spawn #1 (May 1992). Spawn was ranked 60th on Wizard magazine's list of the Top 200 Comic Book Characters of All Time, 50th on Empire magazine's list of The 50 Greatest Comic Book Characters and recently 36th on IGN's Top 100 Comic Book Heroes.
The series has spun off several other comics, including Angela, Curse of the Spawn, Sam & Twitch, and the Japanese manga Shadows of Spawn. Spawn was adapted into a 1997 feature film, an HBO animated series lasting from 1997 until 1999, and a series of action figures whose high level of detail made McFarlane Toys known in the toy industry.
Grim Tales
Spawn has a major role in the Grim Tales. Spawn appears in the first few panels and a few others when he saves Grim Jr. and Minimandy from the Violator. Afterwards he gets to hear the story of Grim Jr. what happened.
Redeemer also has a major role in it as he comes to take Minnie's spirit after she died, but she is stolen from him later. He teams up with Grim Jr. to get her back. He eventually finds out she still has feelings for Junior and sends her back. Billy Kincaid makes an appearance but hasn't any speaking lines. He first is seen selling Ice Cream in Junior's story about his parents and later in the Underworld where Redeemer kills him.