Home
Talk

8
948pages on
this wiki

---
---
The Snafu Comics Wiki is the official collaborative database about Snafu-Comics.com. The wiki format allows anyone to create or edit most articles!

Follow SnafuComics on Twitter or like on Facebook

If something troubling you, have questions or want to say hello, you can contact the admins; DarKingdomHearts, Silence4 and/or KNightRider123.
---
This wiki contains spoilers. Continue on at your own risk.
---
There are 948 articles since October 2011!

---
•April 10, 2014 - New Grim Tales page, Meeting most foul
•April 1, 2014 - New Sugar Bits page, Awakening
•April 1, 2014 - New Grim Tales page, Not so Minnie
•April 1, 2014 - New Powerpuff Girls Doujinshi page, ウオプアス! ベール
•March 27, 2014 - New Powerpuff Girls Doujinshi page, Brave New World - 2011-Present

News archive
---
---

Which April Fools page was the funniest?
Poll Results
---

If you are new to wikis, check the getting started information page.
Check out the community portal to see what the community is working on, to give feedback or just to say hi!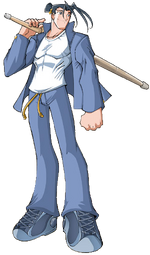 Sensei Jack
is a main character in the comic
Powerpuff Girls Doujinshi
, and is mentioned in
Grim Tales
as one of the fallen heroes.
Sensei Jack, as his title already says, is a teacher on Megaville Elementary. He is the gym teacher, and specializes in Kendo. He was there to save the Powerpuff Girls from the Dread Dragon which caused Buttercup to fall in love with him. Over the course of the comic he tries to train Buttercup to be a more calm person, and even lets her help in his takoyaki stand. During the invasion at the Megaville Center for the Arts he was knocked out by Samantha who stole his katana. Along with the others he got engulfed in the explosion.
In Grim Tales he is one of the deceased fallen heroes. His katana resides in Mandy's Vault and Aku has taken over his Japanese culture, in respect of him. Something happened in Samurai Jack's past which will explain the connection between Powerpuff Girls Doujinshi and Grim Tales.
Read More
---
---

---
---

---

Official Sites
DeviantArt User Pages
---


---